What a weekend, it was so crazy exhausting I am coming to you with a weekend recap on Tuesday.
This
Saturday I participated in Richmond's Monument 10k! The Monument 10k is huge, about 40,000 people race, some dress up (my favorite were the brave souls in the Tetris costumes)
, bands play on the blocks and people cheer you on throughout.
I was slightly worried about the race since I hurt my ankle galavanting around Paris and took about 3 weeks off of my running schedule to be 100% healthy. My goal was to run the entire time at a 12 min/mile pace, and since the most I had run was 5 consecutive miles I was nervous. But, the great atmosphere and people pushed me to run the whole 6.2 miles in 67 minutes, under an 11 min/mile! It was so much fun, I can't wait to participate again next year.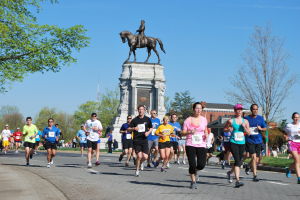 Meanwhile, while I was running, my friends were promoting "Free Beer for Quitters." They made a sign and drank on their balcony handing out beers around the 4.5 mile mark. They even made the Sunday paper, which means I will never hear the end of it.
I headed over to their place after I cleaned up from the race, for some celebratory beers, burgers, and corn hole. A beautiful afternoon spent outside was just what the doctor ordered after 6.2 miles.
Sunday we headed out to the Carytown Beer Festival, however we ended up being about 15 people short of getting in. So instead we headed back to the balcony with Slurpee's in hand instead.
It was a great weekend spent with good friends, beautiful weather and in an amazing city, I couldn't ask for more!